Gain new knowledge
Recently, I gained a few knowledge in learning news English.
The tense used in the news headlines is very different from the tense in general English.
Take the following news as an example :
The headline is
Taiwanese weightlifter Kuo Hsing-chun breaks world record
According to the description of the news content, it stated about what happened in the past.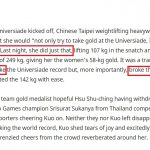 So the correct writing of this headline should be this:
Taiwanese weightlifter Kuo Hsing-chun broke the world record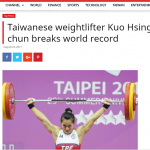 news source   https://chinapost.nownews.com/20170822-195
This is a special usage of news English.
I am happy to know it .