LiLi's birthday party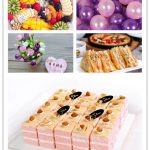 last  sunday was my good friend  Lili's  birthday . she was going  to have  a birthday patty at home. I bought a bunch of  flowers  and drove to her home  to help her  do some preparatory  work.
I put the flowers in the vase ,then wash the apples , grapes and strawberries,cut the pineapples ,watermelons and pears,put them on the table ,turn on the music and start making cakes.
First pour flour into the bowl , add the broken eggs ,then add sugar ,butter,stir evenly ,and put it in the oven. in a short time , the smell of cake will be filled in the whole room.
Other friends arrived  one after another and brought Lili birthday gifts. Lili was very happy to kiss and hug everyone.we sang a happy birthday song to Lili, Lili  bowed to us and then danced a tango dance to express her thanks. her dance was excellent ,we audience applauded  her.
we sang ,dance ,drank good wine and ate delicious food ,we had a good weekend together.